What is oxidative stress and why is it important for athletes?
A balance between free radicals and antioxidants for optimal physiological functioning of the body. If free radical production exceeds the amount or the speed at which the body can regulate them, you experience oxidative stress. Simply put, free radicals impact lipids, proteins, and DNA, leading to several ailments in the long run.
Free radicals – the rogue molecules
Free radicals are produced in large quantities in muscles during exercise. These moleculesmay be created when ATP (energy) is produced through mitochondria in our cells. Another source of free radicals is the environment – pollution, alcohol, tobacco smoke, heavy metals, transition metals, industrial solvents, pesticides, paracetamol, and radiation.

What happens during exercise?
During exercise, the body creates free radicals, followed by antioxidants to combat these free radicals. However, high intensity or exhaustive exercise may skew this balance, not allowing your cells to recover in time. As a result, you may experience fatigue, cognitive impairment or brain fog, muscle and joint pain when you exercise again the next day.
However, this is not a bad thing! When you train harder before the body adapts, overcompensation occurs to prepare the body for the next time it's exposed to the same stimulus. The problem really lies in continuous overtraining, without giving the body enough time to recover and adapt. It would result in a buildup of excess free radicals that bind to lipids, proteins and DNA creating fatigue, joint and muscles pain, injury or cognitive impairment (brain fog), and eventually cell death (apoptosis).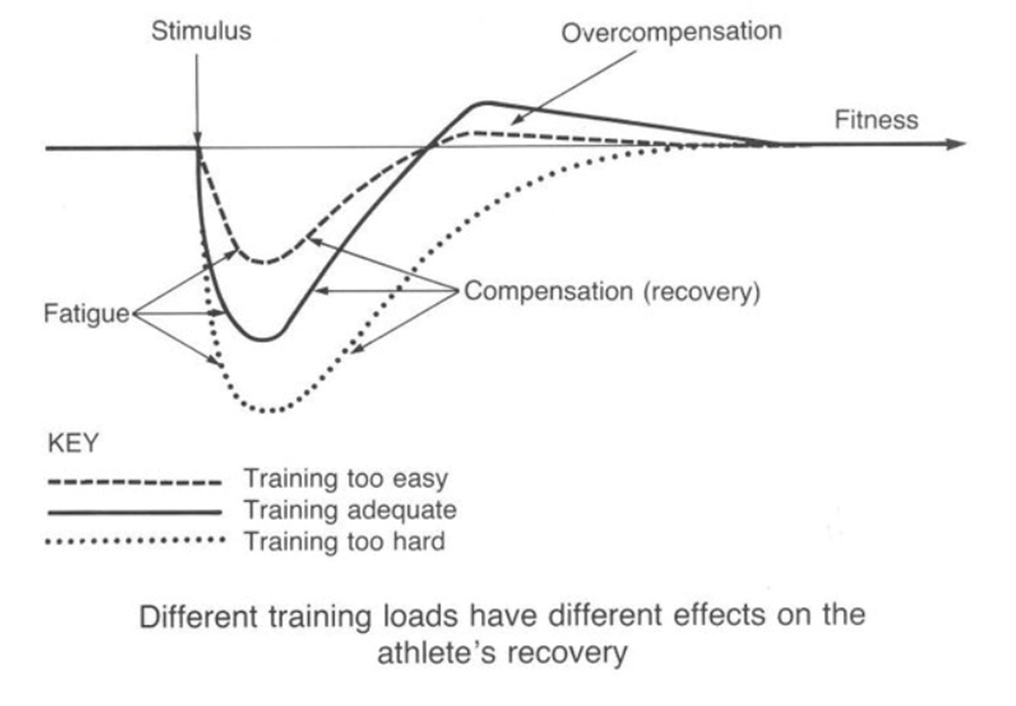 In contrast, if the body is not exposed to an overload or you go through a long recovery period, your body will not undergo much overcompensation, will not adapt and your training will plateau because you will not have created enough oxidative stress!
Why does oxidative stress matter?
Oxidative stress is a scientific measure correlated to how well recovered you are.
Understanding your body and knowing its response to different training stimuli, is key to reducing the risk of injury and obtaining a steady progression in fitness. You can supplement your recovery by increasing antioxidant power through your diet. Methods of increasing blood flow such as stretching, foam rolling, cold contrasting, compression and elevation, are all good ways to help deliver nutrients to your muscles. Getting good quality sleep will also allow for those adaptations to take place. Keep a training log with an RPE (rate of perceived effort), so you can adjust your training load depending on how you felt.
Athletes and their coaches can scientifically track their oxidative stress throughout the training cycle to make sure they are creating positive adaptations without causing cell damage. Now you can measure your antioxidant power with the O2Score device and its interactive mobile app.

In reality, you may workout more than one day in a row before you take an easy day. What is important is to make sure you are recovering sufficiently between 'key' workouts and supplying the body with the right amount of stimulus during these workouts, creating a progressive overload. Too little stimulus will lead to no adaptations and too much will lead to fatigue and injury. If you are looking for oxidative stress tracking for recovery, check out theO2score device at Nexus Scientific or contact info@nexusscientific.com.The O2Score is a robust pointer of the antioxidant power, made after extensive R&D carried out at EPFL (Switzerland), validated for several years by professional athletes and coaches in various disciplines.