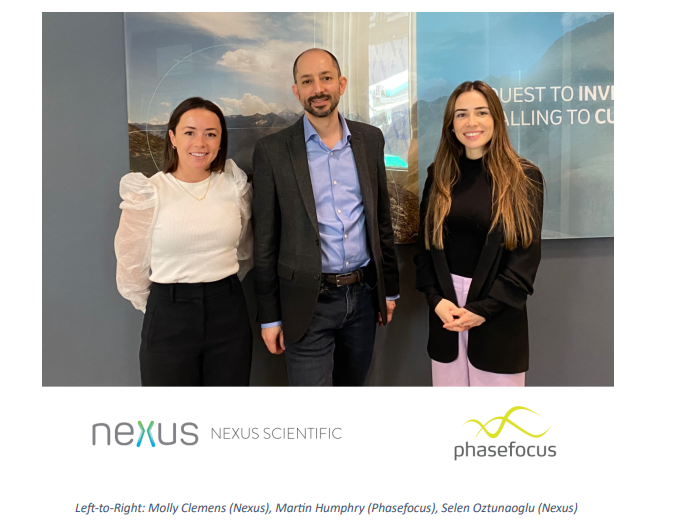 Today, Phasefocus and Nexus Scientific announced a partnership to accelerate the adoption of Livecyte, a high content live cell analyser, in the US market. Live cell imaging is essential to answering some of the most pressing questions in the life sciences, but conventional methods often involve labeling cells, a potentially harmful process that can alter research outcomes. Livecyte's integration of patented label-free Quantitative Phase Imaging technology with state-of-the-art automatic cell tracking algorithms enables users to automatically characterize growth, morphology and motility of large populations of cells in a 96-well plate assay format.
Nexus brings extensive experience in the cell analysis sector to the partnership, with a portfolio of cutting-edge live cell imaging and analysis tools. With the addition of Livecyte, Nexus can offer researchers a unique depth of live cell analysis capabilities in application areas such as drug discovery, regenerative medicine and cell-based assays.
Phasefocus CEO, Martin Humphry commented: "We are very excited to be embarking on a new adventure with the fantastic team at Nexus Scientific. Their extensive sector knowledge and talented team are a great complement to Phasefocus. The partnership will help us grow our US customer base and bring the unique capabilities of Livecyte to a new audience."
"We are proud to be adding the ground-breaking Livecyte to our growing live cell imaging and analysis portfolio" added Selen Oztunaoglu, Managing Director at Nexus Scientific. "With Livecyte's unique and powerful capabilities, we get to address a wider range of customers' pain points and they'll will be able to enjoy new depths of insights and push the boundaries of knowledge even further."
About Nexus Scientific
Nexus Scientific is a Life Science Equipment Supplier headquartered in Boston, MA. We provide International Trade, US Distribution of Equipment as well as pre-sale to post-sale support. Our customers range from Academic Research groups to Hospitals, Biotech and Pharmaceutical companies.
Working with Innovative brands and disruptive technologies is at the core of Nexus's partnerships. Its mission is to enable scientists to further their research by ensuring ease of access to leading edge laboratory and research equipment. Nexus Scientific provides an opportunity for innovative life science brands to grow their global presence.
Visit www.nexusscientific.com to learn more.
About Phasefocus
Phasefocus is changing what is possible in live cell assays, helping scientists uncover subtle differences in cell behaviour across whole cell populations. The company's products are based on a patented and award-winning computational imaging technology, called ptychography. From automated characterisation of live cell behaviour to world-record-setting electron microscopy, Phasefocus is enabling advances in many diverse areas of scientific research.
Livecyte, Phasefocus's flagship product, delivers an unprecedented level of single-cell data from live cells. High-contrast label-free imaging, correlative fluorescence and powerful automated image analysis algorithms result in high-content time-lapse outputs from standard 96-well plate assays.
Find out more about Phasefocus at www.phasefocus.com